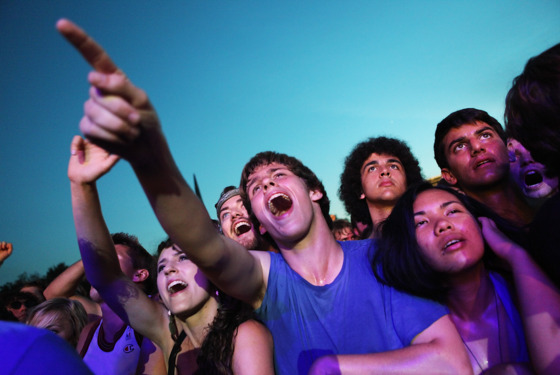 Steven Hyden's thoughtful and provocative seven-part series of articles, "The Winners' History of Rock And Roll", posits that:

In the late '60s, Led Zeppelin represented a new choice between.. "a clearly defined mass taste and a clearly defined elitist taste." This dichotomy would define the rock discourse for the next several decades, until elitist taste finally eclipsed mass taste due to audience attrition. Today, the best rock bands, almost without exception, make records with no chance of reaching the "mass taste" audience. You can blame that on changes in mass tastes — as much as "mass tastes" still exist, anyway — as well as revolutions in media and the record industry. You can also blame the bands, many of whom (intentionally or not) have sequestered themselves from the very people who used to be rock's core constituency.
This has led me to think about exactly how far I've internalized the elite-taste/indie/NYC-centered vision of rock's possibilities over the last decade or so. Here, I guess, are some of the artsists I've definitely dug over the period that may fit Hyden's
model
of "sells out midsize theaters in large cities and elicits blank stares every place else... a group that appears to have little or no concept of what a beer-chugging, Middle American audience might want out of a rock record":
Dirty Projectors
LCD Soundsystem
Bon Iver
The National
Sleigh Bells
Beach House
Passion Pit
Arcade Fire
The Rapture
The Strokes
The Shins
The Decemberists
Bat For Lashes
St Vincent
Broken Social Scene
Joanna Newsom
Panda Bear
Metronomy
M83
Anna Calvi
Ariel Pink's Haunted Graffiti
Jens Lekman
Fleet Foxes
Life Without Buildings
Interpol
Swans
My off-the-top-of-my-head/itunes list feels, on average, more open to broader success than Hyden's totems of indie isolation and impotence: Grizzly Bear. I suppose that Hyden would say that a lot of the stuff on my list isn't Rock and/or macho enough to count for his purposes. It's fair to say, for example, that Dirty Projectors never thought they'd be or wished they'd be as big or as slamming as Led Zep. But what of LCD and M83 and Arcade Fire and The Rapture and The Strokes? I think they met the great unwashed, Middle American audience at least half way, and all attracted or attract a solid female audience not just "the same pasty, 35-to-44ish, predominantly dude-y bunch" that Hyden fears Rock has dwindled down to.