580 or so films to get started on. Bolded titles viable for kids. [Notes: (1) Years of release are more than 99% uncontroversial, but in a few cases, e.g., Cleo from 5 to 7 and Andrei Rublev, I've used the year that's customarily been associated with a picture even if that means diverging from IMDb. (2) I've included a few TV events, e.g., Threads, The Singing Detective, that were momentous enough in their times to appear on some movie critics' end-of-year lists, and that are in fact discussed these days as if they were films. Observe too the case of Das Boot (1981), which was originally viewed by me and most everybody outside West Germany as a 2 hour film, but is now mostly viewed at home in 3+ hour forms, with the 6 hour, TV-miniseries version normally preferred and thought to be definitive.]
1920 The Cabinet of Dr Caligari (HM: Way Down East)
1921
The Kid
1922 Dr Mabuse - The Gambler (HM: Nosferatu)
1923 La Roue (HM:
Safety Last!
)
1924
Sherlock Jr
(HM: The Last Laugh, Entr'Acte)
1925
The Gold Rush
(HMs: Battleship Potemkin, Ben-Hur)
1926 Faust (HM: The Lodger, Ménilmontant)
1927 Sunrise (HMs:
The General
, Metropolis, Napoleon, It, Berlin-Symphony of A Great City) The first monumentally great movie year (which is painful - Silent film comes of age just as it's about to go obsolete/extinct).
1928 Passion of Joan of Arc (HMs: The Crowd,
Steamboat Bill Jr
, Ports of New York, The Last Command, L'Étoile de Mer) Another grand year to cap the Silent era.
1929 The Man with A Movie Camera (HMs: Pandora's Box, Blackmail, Un Chien Andalou)
1930 All Quiet on the Western Front (HM: Earth, Au bonheur des dames)
1931 M (HMs: City Lights, The Public Enemy,
Frankenstein
)
1932 Freaks (HMs: Scarface, Trouble In Paradise, Bourdu Saved From Drowning, Vampyr)
1933 42nd Street (HMs: Gold Diggers of 1933,
King Kong
,
Duck Soup
, Little Women, Baby Face, Design for Living)
1934 It Happened One Night (HMs: Twentieth Century, L'Atalante, Dames)
1935 The 39 Steps (HMs: Top Hat,
A Night At The Opera
, Sylvia Scarlett)
1936
Modern Times
(HMs: Swing Time, My Man Godfrey)
1937 Grand Illusion (HMs: Stage Door, The Awful Truth, Lost Horizon, Stella Dallas)
1938
Bringing Up Baby
(HMs: The Lady Vanishes,
Robin Hood
, Olympia, Holiday)
1939 Rules of The Game (HMs: Gone With The Wind, Dark Victory,
Wizard of Oz
, Stagecoach, Mr Smith Goes To Washington, Of Mice and Men, The Roaring Twenties, Le Jour se lève) A year for the ages obviously.
Pickings are still fairly slender in the early '30s but 1933 is very good. 1937-1939, however, is the real deal; suddenly bunches of films that are as good as any ever made turn up (and, e.g., consider 1937: one's dealing with such riches that films as good and thoroughly enjoyable as Make Way For Tomorrow, Pepe Le Moko, Topper, The Edge of the World, Shall We Dance don't make the cut). Hurray.
1940 His Girl Friday (HMs: Philadelphia Story, Rebecca, Grapes of Wrath,
Thief of Baghdad
)
1941 Citizen Kane (HMs: Lady Eve, Sullivan's Travels, Ball of Fire, Meet John Doe)
1942 Casablanca (HMs: Now Voyager, Palm Beach Story, To Be or Not To Be, Magnificent Ambersons)
1943 Shadow of a Doubt (HMs: Le Corbeau, Life and Death of Colonel Blimp,
The Ox-Bow Incident)
1944 Double Indemnity (HMs: Laura, Miracle of Morgan's Creek, Meet Me In St Louis, Murder My Sweet)
1945 'I Know Where I'm Going!' (HMs: Brief Encounter, Rome Open City, Mildred Pierce, Dead of Night, Children of Paradise)
1946 A Matter of Life and Death (HMs: Notorious,
It's A Wonderful Life
, Best Years of Our Lives, La belle et la bete, The Big Sleep, Great Expectations) This year's highs may be the highest ever.
1947 Black Narcissus (HMs: Out of The Past, Kiss of Death, Odd Man Out, Brighton Rock)
1948 The Red Shoes (HMs: Bicycle Thieves, Treasure of the Sierra Madre, Oliver Twist, Fallen Idol, Red River, Germany Year Zero, Rope)
1949 The Third Man (HMs: White Heat, Kind Hearts and Coronets, Queen of Spades)
1950 Sunset Boulevard (HMs: All About Eve, Rashomon, In a Lonely Place, Gun Crazy, La Ronde, Orphee)
1951 A Streetcar Named Desire (HMs: Strangers on a Train, A Place in the Sun,
Miracle in Milan
)
1952
Singin' in the Rain
(HMs: Ikiru, Forbidden Games, Umberto D., Le Plaisir, The Bad and The Beautiful)
1953 Tokyo Story (HMs:
Shane
, Wages of Fear, The Band Wagon, Earrings of Madame de…, Roman Holiday)
1954 Rear Window (HMs: Seven Samurai, On The Waterfront, A Star is Born, Dial M For Murder)
1955 The Night of The Hunter (HMs: Diabolique, Rififi, Kiss Me Deadly, All That Heaven Allows, Rebel Without a Cause, Smiles of A Summer Night, Ordet, Man From Laramie) Superb year.
1956 The Killing (HMs: Searchers, Invasion of The Body Snatchers,
Forbidden Planet
, Bigger Than Life, The Wrong Man)
1957 A Face In The Crowd (HMs: Sweet Smell Of Success, Paths of Glory, 12 Angry Men, Wild Strawberries, Seventh Seal, Nights of Cabiria) Another great year.
1958 Vertigo (HMs: Touch of Evil, Man of The West, Elevator to the Gallows)
1959 North By Northwest (HMs: Some Like It Hot, 400 Blows, Hiroshima Mon Amour, Pickpocket,
Rio Bravo
)
1960 Psycho (HMs: The Apartment, La Dolce Vita, Peeping Tom, Eyes Without a Face, Les Bonnes Femmes, Spartacus, Breathless, Letter Never Sent)
1961 Cleo from 5 to 7 (HMs: The Hustler, Last Year At Marienbad, West Side Story, Yojimbo, The Innocents, La Notte)
1962 Manchurian Candidate (HMs: Lawrence of Arabia, To Kill A Mockingbird, The Man Who Shot Liberty Valance, Vivre Sa Vie, What Ever Happened To Baby Jane?, Lolita, La Jetée, Mamma Rosa, Ivan's Childhood) Great year.
1963 81/2 (HMs: Hud, Contempt, Birds, Billy Liar, Charade, The Silence)
1964 Dr Strangelove (HMs: Umbrellas of Cherbourg,
Mary Poppins
, Band of Outsiders, Red Desert, Onibaba, Fail Safe, Marnie)
1965 Pierrot Le fou (HMs: Repulsion, Battle of Algiers, Juliet of the Spirits,
Cat Ballou
, The Hill)
1966: Blow-Up (HMs: Persona, Au Hazard Balthazar, Seconds, The Good The Bad & The Ugly, Virginia Woolf, Alfie) Possibly the most mind-blowing year ever.
1967: Belle de jour (HMs: The Graduate, Le Samourai, Weekend, Cool Hand Luke, Point Blank, Two for The Road, La Collectionneuse)
1968: 2001 (HMs: Once Upon a Time In The West, Les Biches,
Planet of the Apes
, Rosemary's Baby, Night of the Living Dead)
1969: Andrei Rublev (HMs: Wild Bunch, Butch Cassidy, Z, They Shoot Horses Don't They?, La Piscine)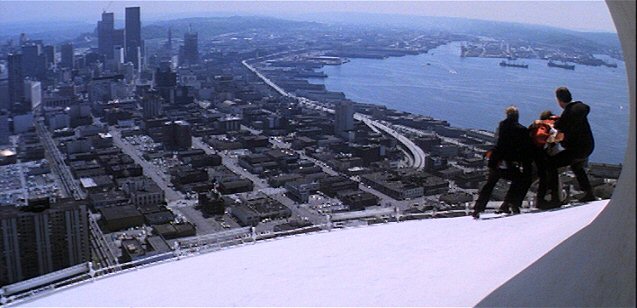 1970 The Conformist (HMs: Tristana, Patton, Le Boucher, La Rupture, Le Cercle Rouge, Performance, Last Picture Show)
1971 Straw Dogs (HMs: The Devils, Dirty Harry, Clockwork Orange, Carnal Knowledge, McCabe and Mrs Miller, Duel)
1972 Godfather (HMs: Aguirre, Cries and Whispers, King of Marvin Gardens, Last Tango, Frenzy, Harold and Maude, Deliverance, Ulzana's Raid)
1973 Mean Streets (HMs: Scenes from a Marriage, Badlands, Exorcist, O Lucky Man, Don't Look Now, The Sting, The Last Detail, Amarcord, Long Goodbye, Scarecrow, The Spirit Of The Beehive, The Mother and The Whore)
1974: Chinatown (HMs: Godfather 2, The Conversation, Parallax View, Taking of Pelham 123, Alice in the Cities, Phantom of The Paradise, Céline and Julie Go Boating)
1975: Jaws (HMs: Nashville, The Mirror, Jeanne Dielman, One Flew Over The Cuckoo's Nest, Dog Day Afternoon, The Man Who Would Be King, Night Moves, Day of The Locust, Barry Lyndon, Shivers)
1976: Taxi Driver (HMs: 1900, The Outlaw Josey Wales, In The Realm of The Senses, Carrie)
1977: Annie Hall (HMs:
Star Wars
,
Close Encounters
, Eraserhead)
1978: Days of Heaven (HMs: Deer Hunter, Invasion of The Body Snatchers, Halloween, Long Weekend)
1979: All That Jazz (HMs: Apocalypse Now, Tin Drum, Alien, Breaking Away, Nosferatu the Vampyre, Life of Brian)
1970-1975 are just insanely great movie years; I could have HM-ed 20 films for each of those years, and in some cases my choice for my fave film amounts to which of a year's top handful I've seen lately. But it couldn't last, and the drop-off in breadth of quality in 1976-1978 is quite noticeable, with 1979 a slight return to form.
1980: Raging Bull (HMs: Elephant Man, The Shining, Mon Oncle D'Amerique, The Stunt Man,
Empire Strikes Back
)
1981: Das Boot (HMs: Diva, Gallipoli,
Raiders of the Lost Ark
, Mephisto, Blow Out, My Dinner With Andre)
1982:
E.T.
(HMs: Fanny and Alexander, Blade Runner, Diner, Missing)
1983: The King of Comedy (HMs: The Right Stuff, Risky Business, Angst, Entre Nous, A nos amours)
1984: Amadeus (HMs: The Terminator, Paris TX, Stranger Than Paradise, Blood Simple, Once Upon A Time In America, Broadway Danny Rose, Threads, Full Moon In Paris)
1985: Brazil (HMs:
Back To The Future
, A Room With A View, Purple Rose of Cairo, Vagabond)
1986: Blue Velvet (HMs: The Fly, Aliens, Decline of the American Empire, The Singing Detective)
1987: Wings of Desire (HMs: Au Revoir Les Enfants, Withnail and I, Raising Arizona)
1988: Die Hard (HMs: The Vanishing, High Hopes, 36 Fillette, A Fish Called Wanda,
My Neighbor Totoro
)
1989: Do The Right Thing (HMs: The Seventh Continent, Heathers, Dekalog)
A noticeable thinning of the field of really great films from previous decades. It does occur to me, however, that the 'great film' concept probably doesn't show '80s film to its best advantage. For example, 1987 is probably the greatest movie year in my lifetime for sheer entertainment value: Robocop, Untouchables, La Bamba, Dirty Dancing, Princess Bride, Fatal Attraction, Moonstruck, Broadcast News, Wall Street, Predator, Evil Dead 2, Planes Trains and Automobiles, Radio Days, No Way Out, Near Dark, Year My Voice Broke, Lost Boys, Full Metal Jacket, House of Games, Lethal Weapon are all good-to-very-good but in no way 'breakthrough' or 'game-changing' films. They collectively attracted incredibly diverse crowds, and most have had long afterlives on vhs/dvd/tv. They're almost enough to make you think that great-ness per se is over-rated in a popular art-form....
1990: Miller's Crossing (HMs: Goodfellas, Life is Sweet, Jacob's Ladder)
1991: My Own Private Idaho (HMs: Delicatessen, Barton Fink, Silence of the Lambs)
1992: Unforgiven (HMs: The Player, The Crying Game, Husbands and Wives, Glengarry Glen Ross, One False Move, Reservoir Dogs) A very macho year that set the tone for the next few years!
1993: Naked (HMs: Groundhog Day, Short Cuts, Schindler's List,
The Wrong Trousers
)
1994: Pulp Fiction (HMs: Crumb, Exotica, Muriel's Wedding, Once Were Warriors)
1995: Safe (HMs: Welcome to the Dollhouse, Heat,
Toy Story
, Se7en, Dead Man, To Die For, Angels and Insects, La Haine)
1996: Fargo (HMs: Secrets and Lies, Breaking The Waves, Trainspotting, Lone Star, Crash, Emma)
1997: The Sweet Hereafter (HMs: Boogie Nights, Affliction, The Butcher Boy, Jackie Brown, LA Confidential, Nil By Mouth, Funny Games, Starship Troopers, Fireworks, In the Company of Men, Firelight) A great year.
1998: Rushmore (HMs: Shakespeare in Love, Happiness, The Big Lebowski, Run Lola Run)
1999: All About My Mother (HMs: The War Zone, Election, Being John Malkovich,
Toy Story 2
, Topsy-Turvy, The Matrix) Another very good year.
A strong decade for US and English-language film generally I'd say. It was hard to find foreign language films that were even HM-worthy.
2000: Code Unknown (HMs: Memento, Requiem for a Dream, Songs from the Second Floor, Crouching Tiger Hidden Dragon, Amores Perros, Wonder Boys, You Can Count On Me, Cast Away) A very good year.
2001: Mulholland Dr. (HMs: The Piano Teacher, Gosford Park, Royal Tenenbaums, Wit)
2002: Punch-Drunk Love (HMs: Talk To Her, Far From Heaven, City of God, Lilya 4-ever)
2003: Master and Commander: Far Side of the World (HMs: Oldboy, Memories of Murder)
2004: Eternal Sunshine of the Spotless Mind (HMs: Sideways, Bourne Supremacy,
The Incredibles
, Team America:World Police)
2005: Caché (HMs: The New World, Brokeback Mountain, The Death of Mr. Lazarescu)
2006: Children of Men (HMs: Pan's Labyrinth, The Lives of Others, Volver, The Prestige, Paprika)
2007: No Country For Old Men (HMs: There Will Be Blood, 4 months 3 weeks 2 days, Zodiac, Diving Bell and the Butterfly, Before the Devil Knows You're Dead,
Ratatouille
) A wonderful year.
2008: Let The Right One In (HMs: Happy-Go-Lucky, Synecdoche NY, In Bruges, Martyrs, The Dark Knight)
2009: Inglourious Basterds (HMs: The White Ribbon, Fish Tank, Hurt Locker, In the Loop,
Avatar
,
Fantastic Mr Fox
, A Serious Man, Dogtooth, L'enfer d'Henri-Georges Clouzot)
2010: True Grit (HMs: The Fighter, Winter's Bone, I Saw the Devil,
How To Train Your Dragon
)
2011: A Separation (HMs: We Need To Talk About Kevin; Once Upon A Time In Anatolia; Martha, Marcy, May, Marlene)
2012: Amour (HMs: Life of Pi, The Master, Django Unchained, Holy Motors)
2013: Under The Skin (HMs: 12 Years A Slave, The Act Of Killing,
Gravity
, Frances Ha)
2014: Grand Budapest Hotel (HMs: The Immigrant, American Sniper, Gone Girl, Leviathan)
2015: Son of Saul (HMs: Room,
Inside Out
, Ex Machina, Look of Silence, Victoria, The Diary of a Teenage Girl)
2016: The Lobster (HMs: The Handmaiden, Toni Erdmann, I Daniel Blake, Julieta, The Witch, Love and Friendship, Spring Street,
Zootopia
) A very good year since many Oscar films were also quite watchable despite not being truly top tier in my view.
2017 (Provisional): A Ghost Story (HMs: Phantom Thread, Dunkirk, Faces Places, Nocturama, Good Time, Mudbound) I've yet to see, among promising others, Loveless, Happy End, The Square, Film Stars Don't Die..., Brawl in Cell-block 99.
So, Haneke is the director of the millennium so far for me, taking honors in 2000, 2005, and 2012 (and he was very close in 2001 and 2009 too). Movie of the mill. so far for me? Probably Mulholland Dr., but A Separation, No Country, Code Unknown, Punch-Drunk Love, Amour, and Eternal Sunshine run it close.
Do I embody a 'great man' personal theory of film? Here are my repeaters: Hitchcock tops 6 times from the '30s through to 1960; the Coens and Powell&Pressburger both top 4 times; Kubrick, Scorsese, and Haneke top three times apiece; and Murnau, Chaplin, Lang, Renoir, Hawks, Wilder, Kazan, Spielberg, Lynch, Tarantino, and Wes Anderson each hit twice according to me.
So my director ranking (going just by their #1s) is:
1. Hitchcock
2=. Coens, Powell&Pressburger
4=. Kubrick, Scorsese, Haneke
7=. Chaplin, Murnau, Lang, Renoir, Hawks, Wilder, Kazan, Spielberg, Lynch, Tarantino, W. Anderson
Note that my year-champions win Best Picture Oscars 9 times (
Sunrise
,
All Quiet On The Western Front
,
It Happened One Night
,
Casablanca
,
Godfather
,
Annie Hall
,
Amadeus
,
Unforgiven
,
No Country for Old Men
), and the top prize at Cannes 6 times (
Third Man
,
Blow-Up
,
Taxi Driver
,
All That Jazz
,
Pulp Fiction
,
Amour
), and there's no overlap between these sub-lists (thanks to
Rocky
,
Kramer v. Kramer
,
Forrest Gump
, and
Argo
).
2017 Note: There are only eleven woman-directed films on my list, with Leni Riefenstahl's Olympia (1938) as my first, Agnes Varda's Cleo from 5 to 7 (1961) as my second (and my only woman-directed year-topper), Chantal Akerman's Jeanne Dielmann (1975) as my third, Varda again with Vagabond (1985) as my fourth, and Catherine Breillat's 36 Fillette (1988) as my fifth. But things are looking up: more woman-directed films (one each from Kathryn Bigelow, Andrea Arnold, Lynne Ramsay, Debra Granik, Marielle Heller, and Marin Ade) have made my list in the 21st Century than did in the 80 years of the 20th Century that I covered. Progress.
2018 Note: Roughly 72% of my picks are English language films, just over 12% are in French, 5% in German, 2.4% in Italian, 1.9% in Swedish, 1.7% in Japanese, and 1.2% in each of Russian and Spanish (all other languages are sub-1%). Fully 5.5% of my picks for this century, however, are in Korean. S. Korea is
the
critical and commercial success story of recent cinema.